About me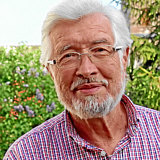 I was born in 1951 in Bochum in the Ruhr Area. For 20 years I lived in Goettingen, studied physics and worked there at the university. In 1989 I moved to Gluecksburg at the Baltic Sea. Since 2017 I live in Leipzig, the most beautiful town in Germany. I am engaged in photography since I was six years old – so I am an autodidact with experience of many years.
At the age of 18 for the first time some of my photos were printed and shown in an exhibition in the context of the competition "Jugend fotografiert das Ruhrgebiet". Having family with children, I had little time for photography during many years. Since 2000 I am able to engage again more intensely in this subject. Various travels brought me to Malta, Rajasthan, Nepal, Poland and also through Germany. Since some years I give lectures on these travels. These lectures are based upon mulimedia slide shows, which are shown via PC and beamer in 16 to 9 HD format with sound. The comment is given live by me.
In 2008 I had the chance to open my first exhibition in Flensburg in the FAB/SBV housing area near the Sandberg. In march and april of 2010 my photo exhibition "Faces of Nepal" was shown in the Seniorenresidenz Gluecksburg.